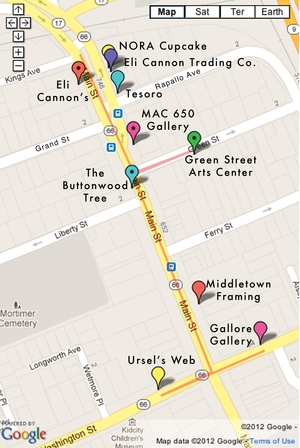 Interested in seeing the artwork from local art
ists in the North End?
Check out the LAST Gallery

WALK in Mi

dd

letown North End, on October 17TH!

North End Artist
Katherine Owens
will be exhibiting at Middletown Framing and there is fabulous art at all locations...come out to support !
T
his is a fami
ly friendly ev
ent so bring
your kids and take a
wal
k on down Mai
n Street's North End. The upcoming sites
are:
Ursel's Web - 140 Washington Street (860) 344-0041
Gallore Gallery - 68 Washington Street (860) 788-2467
Middletown Framing - 502 Main St (860) 347-0064
The Buttonwood Tree - 605 Main Street (860) 347-4957
Green Street Arts Center - 51 Green Street (860) 685-7871
MAC 650 Gallery - 650 Main Street (860) 347-0834
Tesoro - 680 Main Street (860) 704-0607
Eli Cannon's Trading Co. - 696 Main Street (860) 788-3150
NORA Cupcake Co. - 700 Main Street (860) 788-3150
Eli Cannon's - 695 Main Street (860) 347-ELIS
For More Information:
www.facebook.com/MiddletownNorthEndGalleryWalk